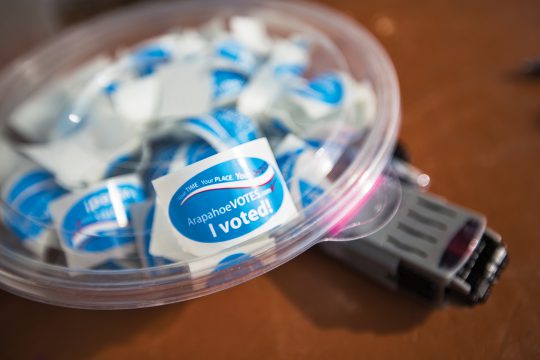 AURORA | The June 30 Primary Election in Colorado will be like none other in the wake of the coronavirus pandemic.
The main event: The Democratic primary race between former Gov. John Hickenlooper and former state House Speaker Andrew Romanoff. The winner takes on first-term GOP Sen. Cory Gardner. Gardner, who has lagged in polls for months, is frequently tabbed by pundits as the most vulnerable GOP senator in the 2020 Election cycle.
But it isn't just the race that makes this primary election different than any others, it's a bevy of factors.
Mail-in ballots have been a reality in Colorado since 2014. Voters began receiving their ballots for the June primary  weeks ago and decide who will represent their political parties in the November General Election. Most races are unopposed.
What's new is that this is the first statewide general election implementing a new state law allowing unaffiliated voters to choose candidates in party primaries. 
The three counties that have Aurora residents — Arapahoe, Adams and Douglas — all were mailed ballots the week of June 8.
Voters who have not returned their ballots by Tuesday must now do so in person at any of several drop-off sites to ensure they're counted.
In-person voting is still an option in each county, however, even for voters who aren't registered.
In the primary format, each registered Democrat, Republican and Libertarian receive one ballot, while unaffiliated voters get two and return one. Candidates for state senators, representatives, county commissioners, district attorneys and University of Colorado Regents dot this ballot, as voters will decide who will advance to the November General Election.
Ballots must be received by 7 p.m. on Election Day on June 30 to be counted, or in-person voting must be underway.
Here's more of what you need to know about voting in the 2020 primary:
— Arapahoe County has 13 of its 30 24-hour-a-day dropboxes located in Aurora (full list at arapahoevotes.com).
If you choose to vote in person, bring an acceptable form of ID to one of six locations: Arapahoe County CentrePoint Plaza, 14980 E. Alameda Ave. in Aurora; Martin Luther King Jr. Library, 9898 E. Colfax Ave. in Aurora; Kelver Library, 404 E. Front St. in Byers; Arapahoe County Lima Plaza, 6954 S. Lima St. in Centennial; Smoky Hill Library, 5430 S. Biscay Cir. in Centennial or Arapahoe County Administration Building, 5334 S. Prince St. in Littleton. Each location will be open from 9 a.m.-5 p.m. Monday through Friday (June 22-June 30) and 9 a.m.- 1 p.m. June 27 for early voting and 7 a.m.-7 p.m. on Election Day (June 30).
Complete Arapahoe County information at arapahoevotes.com.
— Adams County features 26 24-hour-a-day dropboxes (including Aurora locations the Aurora City Clerk's office, Aurora Motor Vehicle, Martin Luther King Jr. Library and the University of Colorado Anschutz Campus).
If you choose to vote in person, Adams County has moved its polling centers into larger buildings to accommodate the need for social distancing. Masks are strongly encouraged, but not required. The six Adams County polling places for the state primary are Adams City Middle School, 4451 E. 72nd Ave. in Commerce City; Adams County Economic Development, 12200 N. Pecos St. in Westminster; Adams County Government Center (West Conference Center), 4430 S. Adams County Pkwy. in Brighton; Bennett Middle School Multipurpose Room, 455 8th St. in Bennett; Fletcher Primary School, 10455 E. 25th Ave. in Aurora and Westminster Motor Vehicle, 8452 N. Federal Blvd.
Complete Adams County information at adamsvotes.com.
— Douglas County has 19 24-hour-a-day dropboxes available, though none are in Aurora.
For the small portion of Aurora residents that reside in Douglas County — primarily around the Heritage Eagle Bend neighborhood in the city's council ward VI — the three voting centers for Douglas County are at Douglas County Kirk Hall, 500 Fairgrounds Road in Castle Rock; Highlands Ranch Sheriff Substation, 9250 Zotos Drive in Highlands Ranch and Lone Tree Motor Vehicle, Parker Meadows Center, 9350 Heritage Hills Circle in Lone Tree. Check DouglasVotes.com or call 303-660-7444 before visiting a polling place.
Complete Douglas County information at douglas.co.us.