AURORA | A Parker man accused of violently beating his former therapist with a hammer in her Aurora home last November pleaded not guilty by reason of insanity in Arapahoe County District Court last week, according to prosecutors.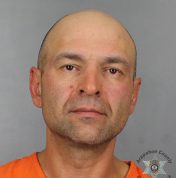 Filipp Kazakov, 45, is accused of attempting to murder 59-year-old Svetlana Martinez in her southeast Aurora home around 6:30 p.m. on Nov. 18, 2018, according to court documents.
As first reported by Denver Channel 7, police say Kazakov entered Martinez's home on South Dunkirk Way and violently beat her with a hammer in various areas of her home.
When Aurora police first responded to the scene, officers found Martinez on the front porch of a neighbor's house "covered in blood," according to court documents.
Martinez sustained multiple skull fractures and a broken arm in the attack. 
"It appeared Martinez bled profusely in the basement," according to court documents.
Kazakov, a native of Russia, had seen Martinez "for some mental health issues" in 2017, according to court documents. 
Martinez told reporters from Fox31 Denver she is a "part-time therapist."
Police identified Kazakov as a suspect after speaking with Martinez's friends, several of whom were in the area immediately following the attack. Police obtained a photo of Kazakov after searching his name in a law enforcement database and determining he was involved in a car accident in Aurora earlier in the year. 
Aurora police coordinated with investigators from the Parker Police Department to locate and arrest Kazakov at his home about three hours after the assault.
In interviews with Aurora police, Kazakov said he believed "Martinez was a KGB agent that specialized in spiritual exorcism," according to court documents. He later accused Martinez of "implanting a part of herself in him and taking his energy."
He told police he believed "that if he scared Martinez, he would get his energy back."
Kazakov is facing a trio of felony charges: attempted first-degree murder, first-degree assault, and second-degree burglary, according to Colorado Bureau of Investigation records. Prosecutors have tacked on a pair of sentence enhancers to those charges.
Kazakov has been arrested for several minor crimes in the metro area since 2000, including a misdemeanor domestic violence charge in Adams County in 2010. 
He is currently being held in the Arapahoe County Detention Center on a $300,000 cash or surety bond, according to county records. 
Kazakov is due next in court for a status hearing at 1:30 p.m. on July 19.