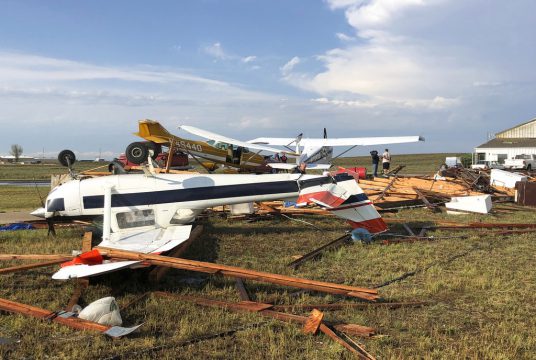 DENVER  |  People on the plains of northeastern Colorado were cleaning up Monday from a powerful storm that spawned at least three tornadoes, ripped off roofs and flipped trucks and small airplanes.
No serious injuries were reported in Sunday's storm, and meteorologists from the National Weather Service surveyed what was believed to be the worst of the damage Monday. Winds topping 70 mph (112 kph) and hail up to the size of baseballs were reported.
The storm left a path of damage about 20 miles (32 kilometers) long and up to 10 miles (16 kilometers) wide in the eastern half of rural Morgan County, where corn crops and large sprinkler systems were damaged, Sheriff Jim Crone said. Some were still waiting for power to be restored.
Trucks and other vehicles were blown off highways east of the town of Brush and on smaller roads elsewhere, the sheriff's office said.
Crone has not heard of anyone who has lost their home, although some people could not stay in their houses until broken windows and other damage is repaired. People were busy helping neighbors board up broken windows and pick up tree branches, he said.
"We're pretty fortunate that these rural folks are pretty self-sufficient," Crone said.
Video and photos from the airport in Brush show at least one airplane flipped over on its top and what appears to be a small building demolished. Video from KUSA-TV showed a large cottonwood tree pulled up from its roots and knocked over.
U.S. Sen. Cory Gardner was headed home with his daughter Alyson when they saw the storm approaching. After the temperature dropped by about 25 degrees and the clouds turned green, they stopped and took cover inside a store for about 45 minutes.
"There was a lot of debris on the roads and damage around, so we waited for a while and helped pull some debris off the road," he said in a statement Monday.
The storm originated in southeastern Wyoming before moving into Colorado and moving into northwest Texas, National Weather Service meteorologist David Barjenbruch said.
There was some damage from hail in the Cheyenne, Wyoming, area, including some broken skylights and windows on some homes and damage to cars, but it was not widespread.