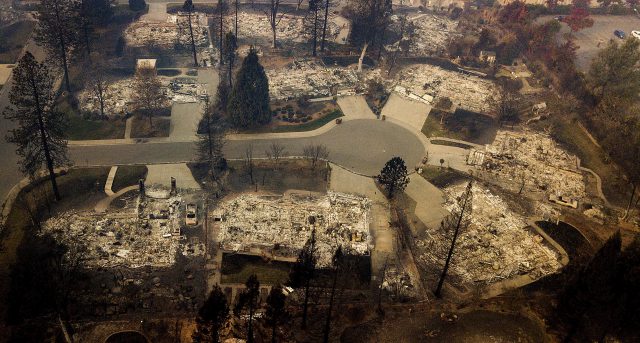 MAGALIA, Calif. | Ten years ago, as multiple wildfires closed in on Paradise, residents jumped into their vehicles to flee and were held up in gridlock. That prompted authorities to devise a staggered evacuation plan — one that they used when fire came again last week.
However, this time, Paradise's carefully laid plans quickly devolved into a frenzied exodus. Some survivors said that by the time they had received warnings, the flames were already dangerously close, and they barely escaped with their lives. Others said they received no warnings at all.
Now, with at least 56 people dead and perhaps 300 unaccounted for in the nation's deadliest wildfire in a century, authorities must deal with questions of whether they took the right approach.
It can also serve as a lesson for other communities across the West that could be threatened as climate change contributes to longer, more destructive fire seasons.
Reeny Victoria Breevaart, who resides in Magalia, a forested community of 11,000 people north of the devastated town of Paradise that was also ravaged in the Nov. 8 inferno, said she was unable to receive warnings because cellphones weren't working. She also lost electrical power.
A little more than an hour after the first evacuation order was issued at 8 a.m., she said, neighbors came to her door to say: "You have to get out of here."
Shari Bernacett, who with her husband managed a mobile home park in Paradise where they also lived, received a text ordering an evacuation. "Within minutes the flames were on top of us," she said.
Bernacett hurriedly packed two duffel bags while her husband and another neighbor knocked on doors, yelling for people to get out. The couple grabbed their dog and jumped in their pickup truck and made a narrow escape, driving through 12-foot flames.
In the aftermath of the disaster, survivors said that authorities need to devise a plan to reach residents who can't get a cellphone signal in the hilly terrain or don't have cellphones at all.
In his defense, Butte County Sheriff Kory Honea said evacuation orders were issued through 5,227 emails, 25,643 phone calls and 5,445 texts, in addition to social media and the use of loudspeakers. As cellphone service went down, authorities went into neighborhoods with bullhorns to tell people to leave, and that saved some lives.