WASHINGTON | Veering off from the special counsel's Russia probe, prosecutors are ramping up their investigation into foreign lobbying by a pair of major Washington firms that did work for former Trump campaign chairman Paul Manafort, according to people familiar with the matter.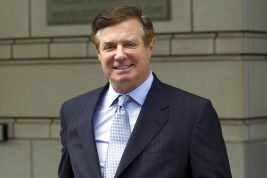 The investigation had stayed hush for months since special counsel Robert Mueller referred it to authorities in Manhattan because it fell outside his mandate of deciding whether the Trump campaign coordinated with Russia.
But in a flurry of new activity, Justice Department prosecutors in the last several weeks have started interviewing witnesses and contacting lawyers to schedule additional questioning related to the Podesta Group and Mercury Public Affairs, the people familiar with the inquiry said. They spoke to The Associated Press on condition of anonymity because they were not authorized to discuss the ongoing work.
The New York work underscores the broad impact of Mueller's investigation, extending well beyond the central question of President Donald Trump and collusion. Mueller has made clear he will shy away if he discovers alleged crimes outside the scope of his inquiry; instead, he refers them out in investigations that may linger on even after the special counsel's work has finished. Other Justice Department referrals from Mueller have ended in guilty pleas, including the hush money payment case of Trump's former lawyer Michael Cohen.
The probe reflects how Mueller, in latching onto an obscure law, has shined a light on high-dollar lobbying practices that have helped foreign governments find powerful allies and advocates in Washington. It's a practice that has spanned both parties and enriched countless former government officials, who have leveraged their connections to influence American politics.
In New York, Mueller's referral prompted a fresh look at the lobbying firms of Washington insiders Tony Podesta and Vin Weber, who have faced scrutiny for their decisions not to register as foreign agents for Ukrainian lobbying work directed by Manafort.
Podesta is a longtime Democratic operative whose brother, John Podesta, ran Hillary Clinton's 2016 presidential campaign; Weber is a former Republican congressman from Minnesota. Neither man has been charged with any crimes. Their firms have defended the decisions by saying they relied on the advice of outside attorneys.