BOULDER | New Colorado coach Mel Tucker took a tour of the football facilities with his two teenage sons.
Typically, his kids aren't easy to impress.
"We get back to hotel room and the boys said, 'Are you kidding me? We can win here!'" Tucker said Thursday at his introductory news conference. "I'm like, 'What do you think we're doing here? We're here to win. We're here to win big.'"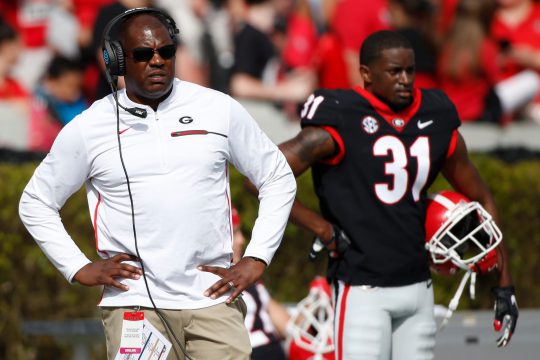 To set the bar any lower just wouldn't be comfortable for Tucker. At his last two stops, Georgia and Alabama, all the defensive-minded coach did was help stack wins. That's why he's taking a no-excuse approach to Boulder.
It's win now for a program that's only been to one bowl game over the last 10 years.
"The expectations I have are extremely high. We're here to win championships," said Tucker, whose five-year, $14.75 million deal is expected to be approved by the board of regents next week. "That's OK with me."
Tucker's first order of business Thursday morning was to hold a meeting with his players. There are approximately 68 lettermen returning next season, including 14 starters led by all-conference receiver Laviska Shenault Jr.
Almost instantly, Tucker got a good feeling about the situation.
"I know the young men in that room, they're hungry," said Tucker, who's been the defensive coordinator at Georgia the past three seasons. "They want to win. They want to compete for championships. They want to be relevant. I promised them that if they follow the process and they buy in and do the things we're going to ask them to do, then we will achieve at a high level."
That's going to require a little healing of bruised egos. The Buffaloes went from a 5-0 start this season to losing out and seeing their coach Mike MacIntyre fired along the way.
"As far as recovering from 5-0 to 0-7, that's a process that can't start in the fall. You have to start right now," former Colorado and NFL linebacker Chad Brown said. "Figure out what those demons were and exorcise those demons."
Next on the agenda for Tucker is meeting with the current coaching staff. He's not going to make any decisions on coaches until he has a chance to assess the program.
After that, he will hit the road to line up recruits. Tucker still plans on making California and Texas high priorities, but will branch out into the South to find players as well. Of course, the state of Colorado remains high on his list, too.