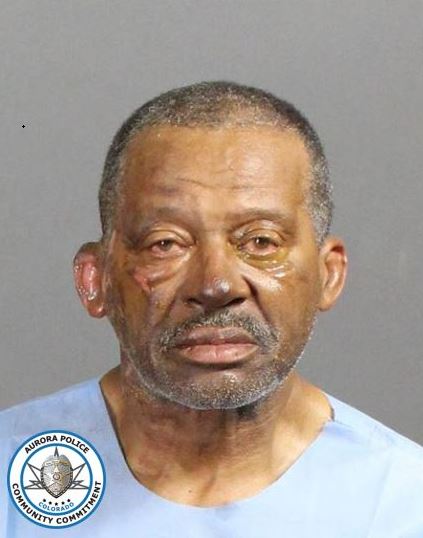 AURORA | Aurora police last week arrested a 65-year-old man on suspicion of attempted murder after investigators believe he lit his roommate on fire by dousing him with an alcoholic liquid and igniting it.
Adams County prosecutors on Thursday formally accused Sylvester Spinks Jr. of arson and felony assault following an incident in which his roommate was seriously injured, according to state court records.
The original charge of attempted murder was amended after Spinks made his initial court appearance, according to court records.
Police responded to the intersection of East 17th Avenue and Clinton Street shortly after 6 a.m. May 23 after receiving a report that a man was being burned alive in the street, according to a spokesperson for Aurora police.
First responders found 56-year-old Darrell Cannon with significant burns on his arms, chest and face, according to information released by Aurora Fire Rescue. He was taken to a local hospital and is expected to survive.
A doctor at University Hospital determined that Cannon is at "substantial risk of serious permanent disfigurement" and suffered second and third-degree burns, according to an arrest affidavit filed against Spinks.
Investigators later learned that Cannon had gotten into an argument with Spinks, his roommate, earlier that morning in apartment number three at 1741 Clinton St. Cannon later told authorities that the dispute stemmed from an $87 debt Spinks owed Cannon. After Cannon confronted Spinks about the money, Spinks doused him with an alcoholic fluid and ignited it, according to the affidavit.
Cannon said he believed Spinks covered him in Everclear grain alcohol. Police later found "a nearly empty bottle of 93-proof Everclear grain alcohol on a table" in the apartment where the incident occurred, according to the arrest document.
Officers who canvassed the unit hours after Cannon was found on the street reported "a strong odor of 'burnt' coming from a room inside of the apartment," police wrote in court documents. Investigators also noted finding a scorched chair, carpet, blanket and other items with burn residue inside the residence.
Spinks was booked into the Adams County jail in the early morning hours of May 24, according to county records. He remains incarcerated at the Brighton facility in lieu of posting a $100,000 bond.
He's set to appear in court at 2 p.m. on June 19 for a preliminary hearing.
Spinks, who has also used the alias Snookie, has been charged with a multitude of felony counts in Colorado in the past three decades, most of which are related to possessing and selling drugs, according to court records. In 2008, he was sentenced to 19 years in state prison after pleading guilty to the class two felony charge of possessing an illicit substance for the second time.